TL;DR: From the airport, take the RER B to Châtelet-les-Halles then RER A to Noisy Champs. Tickets will cost around 30€ for the weekend.

Charles de Gaulle Airport has 3 terminals. You're extremely likely to arrive from Terminal 2 but this guide covers all terminals anyway.
Travelling from the airport to HFLAN
First of all, reach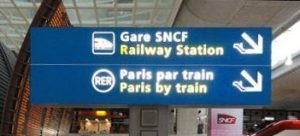 the RER line B towards Paris. To make sure you're boarding the right train, please check that the train 4 letter mission name starts with J, L, K, P, S or U. Stop at Châtelet les Halles (shat-lay lay ah-luh).
PROTIP : Train missions starting with JA, JI, KA, KD, PE, PF, SE, SI & UL go straight to Paris from CDG Airport and are thus less crowded. Enjoy 26 minutes of express regional transportation with those trains!

Once you arrive at Châtelet les Halles, you will witness the shortest transfer ever as the platform you're looking for is right in front of you. It's the platform for RER line A trains going East.
Make sure to board a train going to Torcy (tor-see) or Marne la Vallée (marn lah vah-lay) and stop at Noisy Champs (noo-wah-zee-champ). The train's mission name should start with an O or a Q like ONIX or QIKI).
Once at Noisy Champs, ESIEE is a few minutes away.
Getting the right tickets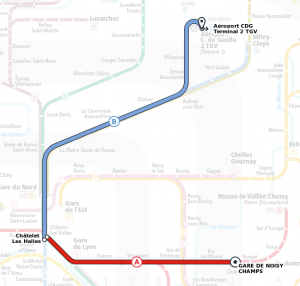 If you arrive between Monday and Thursday and leave on Sunday, just buy a Navigo Découverte pass and charge it with a Navigo weekly subscription for zones 1 to 5.
This is the cheapest transportation plan you can get and it will allow you to use all lines (except a few ones that are not that relevant anyway) until Sunday 11:59PM.
Total cost: 27.80€

Navigo Découverte pass: 5€
Navigo weekly subscription: 22.80€
If your arrive on Friday and would like to visit Paris before reaching the HFLAN and before boarding your plane (like for the IRL meeting), please buy one round trip CDG Airport ↔ Paris and another round trip Paris ↔ Noisy Champs.
Total cost: 30.50€

Round trip CDG ↔ Airport Paris: 20.60€
Round trip: Paris ↔ Noisy Champs: 9.90€
For more information about travel passes, click here. You can also reach us on Discord or Facebook.