TL;DR: From the airport, take the Orlybus to Denfert Rochereau, RER B to Châtelet les Halles then RER A to Noisy Champs. Expect 20€ for tickets if you're cheap, 30€ if you want unlimited trips for the week.

Orly Airport is the older but smaller sibling of Roissy Airport. It's better as an airport if you're coming from the South as you won't have to fly over Paris (which is longer and pollutes more).
Travelling from the airport to HFLAN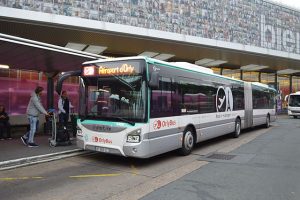 First of all, you should go to the bus station and take the Orlybus to Denfert Rochereau. It's a 20 minutes ride. The bus will drop you right in front of the RER line B station. Take a train that goes to Gare du Nord (that one is pretty easy), Charles de Gaulle (shar-luh duh goal) or Mitry Claye (mitt-ree clay) and stop at Châtelet les Halles. To make sure you're boarding the right train, please check that the train 4 letter mission name starts with A, E, I or Q.
At Châtelet les Halles, take the stairs to get to the platform for the RER line A that goes East (Est in French). Make sure to board a train going to Torcy (tor-see) or Marne la Vallée (marn-lah-vah-lay) (the train's mission name should start with an O or a Q like ONIX or QIKI) and stop at Noisy Champs (noo-wah-zee-champ).
Once at Noisy Champs, ESIEE is a few minutes away.
Getting the right tickets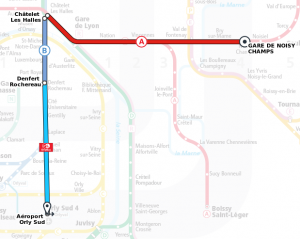 The cheapest option is if you only want to wander in Paris the day of you arrival and the day of your departure. In that case, just buy two Mobilis ticket for zones 1 to 4. Those tickets allow you to freely use transportation in those zones (they include Orly and the HFLAN but not Disneyland).
Total cost: 18.40€

Mobilis ticket (zones 1-4): 18.40€
If you arrive between Monday and Thursday and leave on Sunday. Then just buy a Navigo Découverte pass and charge it with a Navigo weekly subscription for zones 1 to 5.
This will allow you to use all lines (except the Orlyval and others that aren't that useful anyway) until Sunday 11:59PM.
Total cost: 27.80€

Navigo Découverte pass: 5€
Navigo weekly subscription: 22.80€
For more information about travel passes, click here. You can also reach us on Discord or Facebook.